Jameela Jamil Praised For Saying Money Is The Reason Celebs Look So Perfect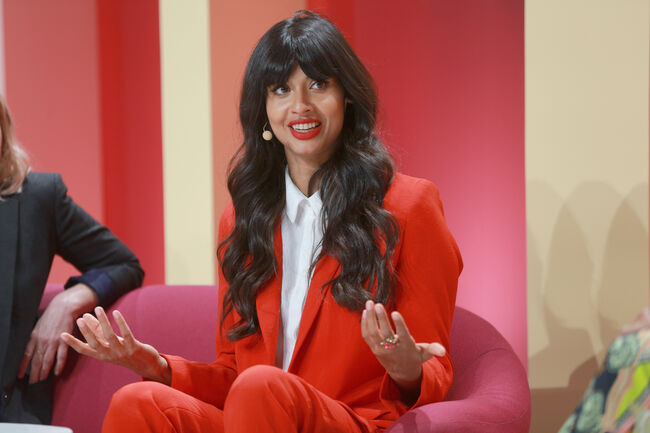 While Jameela Jamil is best known for her role on role on the popular sitcom The Good Place, the actress is making waves on social media now, too. She's quick to call out other celebrities, such as Khloe Kardashian and Cardi B, when they promote weight loss teas and shakes on Instagram. Just a week after calling Khloe "irresponsible" for her weight loss ad, Jameela is being praised for pointing out that the real reason celebrities are able to look so perfectly put together all the time is because of their wealth.
"Let's get real about money for a second. Because money is the reason most people don't look as thin and young as celebrities. These people have trainers, chefs, access to the best organic food, they have the best beauticians, staff to help them do everything, a much less stressful life, the best doctors, many have talented surgeons, they have makeup artists and hair stylists," Jameela's text post reads.
"And then, on top of that, they are airbrushed without telling you they are," she continues. "You are being set up for a fall with this comparison porn culture. Swerve the lies and just do you."
Jameela continued to talk about her message in the post's caption. "'How does she look so young?' Asks the single mother of three, holding down two jobs, as she gazes at a magazine, looking at a famous actress her age," she writes. "She looks so young because she does't do s**t compared to you and gets way more sleep. (And her magazine covers are photoshopped) give yourselves a break."
Jameela's followers were quick to applaud the actress for her honesty. "I just had a baby and have been battling weight and appearance issues. This has made me feel so much better. Thank you," one woman wrote. "Thank you for being you and calling this out exactly like it is!" another added. "I wish more people would use their platform to talk about things like this. Thank you for saying it," added another follower.
We can definitely expect more realness like this from Jameela in the future. She's promised to keep talking about these things until other celebrities do the same.